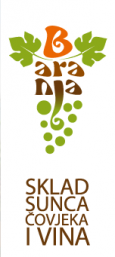 Welcome to Baranja! Let us show you how people live in the Croatian north-east. You will see traditional houses belonging to Croats, Hungarians, Serbs and Germans, because this is a region famous for its multiculturalism. We will show you the Kopački rit Nature Park, a vast wetland area at the mouth of the Drava and Danube rivers which is home to more than 290 species of birds and various other wild animals like the European deer, wild boar, fox and marten.
We will continue our exploration by visiting the very north-eastern tip of Croatia, the Liberty Monument above the Danube from where you will see three European countries, Croatia, Serbia and Hungary. And then we will take you to a place where you will try the essence of this region, the famous Baranja wines! The wine has been produced here ever since the Roman times but the oldest existing vinery dates back from 1526. Premium quality Welsh Riesling and Chardonnay, Merlot or Blau Frankisch will serve as great introduction to the times ahead.
DANUBE.TRAVEL has no control over the website content generated by users and/or visitors, neither such content represents a statement, opinion, recommendation or rating by DANUBE.TRAVEL. For further information please refer to DANUBE.TRAVEL – General Website Terms and Conditions of Use.
Places near this location
My Danube
Trip Plan
Your Trip Plan is currently empty. Add a city, location or route to create your trip plan.