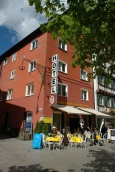 The traditional, caringly managed "Family Hotel Anker" with its restaurant "Spanische Weinstube" is located right next to the Minster. Ulm's most famous landmark in the heart of the city. The restaurant serves Swabian and Spanish specialities.
Tourists, business travellers, trade-fair visitors and cyclists will find a welcome in our refurbished, individually styled rooms and enjoy a substantial breakfast buffet.
Location: city-centre
Next Stopp (distance): Town Hall (800 m)
Proximity:
Ulm City 100 m
Central Station 800 m
Fair ground 1 km
Motorway 2 km
Rooms (Number) & Rates:
Single room (3) 38,00 € - 48,00 €
Double room (4) 68,00 € - 79,00 €
Three-bed room (3) 95,00 € - 120,00 €
Hotel Anker, Rabengasse 2, 89073 Ulm, Phone: +49 731 632-97,
DANUBE.TRAVEL has no control over the website content generated by users and/or visitors, neither such content represents a statement, opinion, recommendation or rating by DANUBE.TRAVEL. For further information please refer to DANUBE.TRAVEL – General Website Terms and Conditions of Use.
Places near this location
My Danube
Trip Plan
Your Trip Plan is currently empty. Add a city, location or route to create your trip plan.